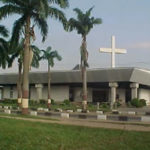 I've suffered and hardly got anything I wanted. I've been through trials and tribulations.I have seen so much terror and had nightmares that shook me terribly.
I've seen my mates die around me and people so close to my heart just fade away. I've had sleepless nights over the pain I have come across.Why should I give thanks?
I've had days of hunger and hopelessness.I had days when there was no money to go to the studio,days when there was no single food and days when we didn't know where the rent will come from and all hope seemed lost.Why Should I give Thanks?
Those days I went to school and Had no money for lunch,it was terrible. What about those days the conductor called a higher price and I had to start walking. Is it the days that there was no day for the fuel for the generator? Why on earth should I give thanks?
After all these pain,why should I give thanks?Suddenly I remembered that there were people who died,people who live under the bridge,people who can't go to school and people who are even handicapped but I am alive.This is enough reason to thank God.