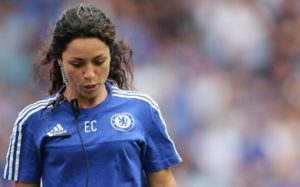 At first, it was just footballing melodrama.  Now, it's become a commentary on something far bigger and far worse.
Since her involvement in the controversy at Stamford Bridge on August 8, the last seven days of Eva Carneiro's professional existence have been reliably governed by a story arc from a different generation.
Or, at least, one we believe to be from a different generation.
Carneiro's job performance prior to the incident at Stamford Bridge last weekend is, at the time of writing, unclear and it's therefore impossible to determine whether her demotion was just a mishandled Jose Mourinho smoke-grenade or a deserved sanction.  Her actions during the second half of that Swansea City game were entirely correct, but that incident in isolation is not a basis for judgement.
In time maybe we'll know, but for the moment we do not, and so it's probably appropriate to seal off that part of the issue and explore it at another time.
What is open for debate is the manner in which Dr. Carneiro has been treated in the aftermath.  If they were being candid, Chelsea would probably concede that this episode has been poorly handled and that their first-team manager's denouncement of his medical staff was both unwarranted and unwise.
Whether Mourinho intended it be so or not, the Portuguese could surely have anticipated that—by putting her in the media spotlight—he was exposing Dr. Carneiro to something that would ultimately be quite unpleasant and which would involve both her character being questioned and her professionalism belittled.
Mourinho is complicit.  He is neither a sexist nor a misogynist, but by involving the club's internal re-shuffle in the sport's day-to-day discussion, he made it back-page-worthy—and, in so doing, unwittingly fired the starting pistol on what has transparently been a gender-fuelled attack on a club employee.
And "attack" is right.
Amongst society's many problems is self-delusion and its subsequent ability to convince itself that it has made more progress with equality than it really has.   Too often, we think of misogyny and sexism as being yesterday's problems and part of an ugly past that we are now thankfully free of.
But that's just not true, is it?
While the interest in Eva Carneiro is understandable, the coverage of her in the press has been framed by ugly, snide language.  Beyond the industry staples—the fixation with her appearance, the choice of photographs—there's been something menacing at work and, at almost every turn, an aggressive determination to discredit and devalue her has been apparent.
Of course, we're used to the verbiage.  Whenever a woman becomes publicly visible for her professional accomplishments, it's a tedious convention for her to be reduced to physical, cosmetic terms.  Carneiro's hair was discussed, the merits of her smile were probably debated; irritating, yes, but the worst of it?  Unfortunately no.
On Wednesday, the Daily Mail ran a piece containing an interview with Ralph Rogers, Carneiro's predecessor at Chelsea, and it was an article of quite eye-watering malice.  Rogers, who now occupies a prestigious medical position with the National Basketball Association, might have been expected to tow his profession's line or defer to his lack of first-hand knowledge of the situation in question.
He didn't.  He really went for Carneiro.
"Cheerleader," "Celebrity doctor"; those were hand-picked phrases which were intended to harm and which would never, ever be used to describe a man.  It's as sneery a piece as you could ever wish to read and one which drips with malevolence and male entitlement.su
There was a subtle irony to it, too, with Rogers unwittingly showing that he himself is not entirely cognisant of what Carneiro's responsibilities were in that situation.
"A head injury you run on—period. But you have to understand the injury and the game. I completely agree with some of the things Mourinho said. I also saw from his reaction there was a little bit more frustration."
"Understanding the game" was not part of the equation.  Once called onto the pitch by the referee, Dr. Carneiro was obliged to treat the player and for her to refuse would have been to breach the good practice guidelines of the General Medical Council—an organisation who lent their written support to her during the immediate aftermath.
That was clearly lost amongst the eagerness to pat Carneiro on the head.
It continued.  On Sunday, The Sun published a kiss-and-tell story with one of Carneiro's ex-partners.  Moral judgements of the man in question—bitter, money-hungry etc.—are perfectly reasonable, but ultimately beside the point.  That he was willing to public shame his ex-girlfriend was one thing, but that the paper had such an appetite for him to do so was quite another.
It has represented a very deliberate attempt to cast her in a particular light.  The tell-tale signs are all there: the references to sexuality and unsubstantiated infidelity—it's the language of a character assassination.
It's astonishingly brazen.  This is someone who, to the best of our knowledge, has done nothing wrong and who herself is the injured party.  Yet, because of her gender, she is somehow considered fair game in the name of the public interest.
How can that be right?
She's good-looking.  She wrote a Facebook post.  Those are the only crimes of which she's accused and it's disturbing to believe that, for someone of her gender and her profession, that's all the justification required for a merciless media assault.
Written by Seb Stafford-Bloor and the article was first published in umaxit.com