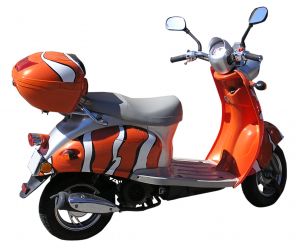 I remember that day when I woke up, and I saw the headline "Fashola Bans Okadas from Express Roads and Highways" on my twitter timeline. I laughed at first. After a while, I ran outside to find a vendor so I could get the day's newspaper to be sure it wasn't a huge joke. Unfortunately, it was not a joke.
The anger I felt was thundering. I imagined what I was going to go through. I imagined how I'd have to wait at the bus stop considering the fact that I hated the black and yellow buses due to the congestion and the horrible odours of the conductors' armpits. Even if I had to decide not to take the BRT buses, the long queues will frustrate me and I'd have no choice. At that time, if I had been given a chance, I would have had a thing or two to say to Governor Fashola.
Well after carefully examining the issue at hand, I believe I understand his intention but in my humble opinion, I do not think that he went about it properly. Why do I say that? Lagos is a very densely populated area with women, children and men all over every inch. Not everyone can even afford a bike talk less of a car.
If he had to take a measure like this, I feel he should have put the necessary arrangements in place first. More BRT buses should have at least been put in place, and more traffic wardens should have been recruited because bikes escape traffic; so in order to reduce the traffic for Lagos workers, more traffic wardens will be needed to ease the flow.
The anger I feel seeing that the same conductors of black and yellow buses usually begging me to 'enter', now tell me the bus is full. It just feels so awkward. Under the scorching sun, one will be getting sun burnt just to enter a bus. Apart from the fact that Governor Fashola to the best of my knowlegde gave them no advance warning, he went to the extent of seizing their bikes and coincidentally he gave them helmets for their bikes to ensure they voted for him. This is totally unfair; nobody gains anything. Alright, he organized an acquisition programme for okada riders but it cannot cover the numerous bikers in Lagos. I just feel he needs to reverse this action he has taken or better still, put in more measures to make these Okada riders happy again.
From your political eye, Deeva Anyaoha. Deeva writes from Lagos, Nigeria