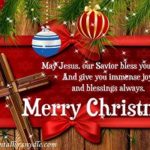 This Christmas: I encouraged Joyce to share how God answered her prayers and she became a wife and mother after years of waiting.
In her own words Joyce told me:
Yvonne, I heard a lot of gossips. But never allowed people's talk put me down.
Even from some of my siblings will say make I go find how I go take Marry.
My nieces that I carried as babies also got married and had children. My younger sister got married also. But I never felt bitter or bad. I was truly happy for them.
I got different kinds of counsel concerning my unmarried Status. Friends and family tried to match-make me with men they think are of age but are yet to settle down. It never worked out.
Of course a lot of people felt something was wrong with me that was why i have not been able to settle down. You see, I lived alone, drive a good car and I carry myself well. Some even wanted me to stop driving so I won't look so High for men to approach.
I started praying seriously and trusting God in 2009 for a life partner. I did a lot of fast and countless vigils too. I had a lot of people praying along with me but in. In 2014 l got a prayer partner. We set aside every Thursday (vigils) to fast and pray. I waited for 5 years to see the manifestation of my prayers.
I met my hubby at a wedding in my church. We exchanged phone numbers and the rest is history. He proposed to me on my birthday in June 2015 and we got married that same year.
We faced challenges before we wed but I thank God for the victories as today, we have been happily married for a year and we have a child.
Yvonne Says: This testimony is written at this time of the year to encourage every single who believed God to be married this year and it did not happen.
Relax, God is never late, contrary to what you believe and how you feel. God loves you and has the special one for you and sooner, than later, God wills it, you will get married.
It does not matter if you are the oldest and your age also does not matter, it does not matter if even the babies have all gotten married and had babies, it does not matter if you are the only single one left in your whole community, It does not matter that they invite you to multiple weddings and openly ask you if something is wrong with you, that perhaps that is the reason you are still single. It does not matter if they gossip right in front of you. It does not matter if they call you aside and advice you to go seek help for your problems. Sweetheart; trust God, He may not have done it when you expected Him to, but He will do it and His time is the best time. Do not follow anyone, whoever he/she/ they may be; to anywhere, to seek "spiritual solution" to your unmarried state.
Please, wipe those tears, get your joy back and hold on to God. You will definitely get married!
I pray that this article and testimony brings you healing and hope and I wish you and all our readers' a truly merry Christmas!
Let's also remember that Jesus is the reason for the season.
Until next time, I love you with the love of God. Shalom!