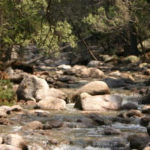 My darling readers, I know you all have missed me because I've been away for too long but you know me. I am a confused believer and living that life has never been easy. I have been going through silent tribulations but I believe that my God will fight the enemy that is trying to hurt me, and the cockroach that has been eating the vegetable of my happiness shall be exposed to those around. Why do I say so?
Well, sometimes in life, you go through some things that people don't see and its pretty worse when you're the only one who sees it and when you try to tell them, they think you are crazy but if you are in this case just like me, always remember that God is watching and revenge is the Lord's. You are never alone. Even when you feel the pain and the anger against that person who hurt you, learn to be patient and listen to God. The devil might push you to revenge in other to drag you into further trouble but don't give the devil a foothold. Listen to God instead so he can lead you right.
I try my possible best to listen to God and I'm still doing that and learning more. Through my experiences, I believe that God strategically positioned me here to help and I will continue to do as He said as He continually strengthens me. I love every single one of you.
Yours Sincerely, A Confused Believer.