In like manner also, that women adorn themselves in modest apparel, with shamefacedness and sobriety; not with braided hair, or gold, or pearls, or costly array. 1Timothy 2:9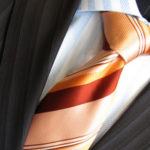 Hello people! I hope your week has been wonderful and you are holding unto the Word of God in this month of fast, October. I contemplated on an article to put in this week and it hit me to share with you that 'Royalty is NOT Nudity'. I would introduce this write-up by giving two scenarios. One for the men, and the other for the women.
Gentlemen, imagine you walk into a restaurant, meet a nice lady well clothed, made up and fully covered; and on the same day, you meet another lady with a short mini skirt and a top revealing her cleavage. Which of these ladies would you like to take home to your parents as a wife?
Ladies, imagine you walk into a supermarket and meet a young guy on a t-shirt sagging his pants and another on a clean shirt well tucked in. Who would you grant audience to?  It definitely would be the lady well clothed and the man properly dressed.
Going by this, it shows that the saying 'dress the way you want to be addressed' never gets old and our appearance matters a lot! Many Christians no longer uphold the right values and morals and they have also extended this to their dressing. It is absolutely impossible to practice what you do not preach.
Many young people and even some old people want to follow trends but do not realize that they lose themselves in the process. It is only God that looks at the inner appearance. Man looks at the outer. The way you dress tells me a lot about your person. Some people never get another chance to make a second impression. Don't get me wrong, it is not an offence to love fashion or love beautiful things.
I love fashion and I love to look good! Trust me. It all boils down to how you apply these trends to suit your taste. You MUST wear what you are comfortable in. I think it is absurd to wear a dress and have to adjust it every five minutes. Truth be told, you cannot walk up to an unbeliever dressed shabbily and expect to be granted a positive audience. Don't be surprised if he insults you.
I have looked at the royal family and how they dress, talk, walk and eat. I try to emulate them because I know I am royalty. In fact, I aspire to be well groomed in all areas and so should you. They cannot be seen in certain places and they definitely cannot wear some things. That is class! How much more you, the child of the King of Kings and the Lord of Lords? You are royalty and you should start acting like one.
Not following trends sometimes shows you are in a class/world of your own. I implore us to begin to act like who we really are; to dress, walk, talk and sit like royalty. You can look absolutely stunning without of unnecessary exposure. As we proceed with the October fast, I implore us to hold on to the word of God, pray, look clean/sharp in our dressing and also take care of ourselves as regards grooming.
Have a fashion filled week people. Shalom!