INTRODUCTION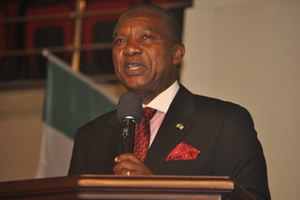 Nigeria's pre and post independence economy was built on the export of agricultural commodities- groundnuts and cotton from Northern Nigeria, Cocoa and rubber from Western Nigeria and Palm oil and Palm kernel from Eastern Nigeria.
In the first and second National development plans, the need to increase the productive content of the economy rather than depend solely on the exportation of raw commodities was recognised. Following from this a period of heightened industrialisation of Nigeria happened in the early sixties with a spill over into the seventies. It was at this time that the Ikeja ( Wemabod)Industrial Estate in then Western Nigeria,the Oluwole Industrial Estate in Ibadan, the Trans AMADI Industrial Estate in Port Harcourt in the Eastern Nigeria and the Bompai-Kano Industrial Estate in the then Northern Nigeria were built. Though oil had been discovered in commercial  quantities in Oloibiri (1958) and subsequently in other parts of the Niger Delta Basin and the Nigerian Civil War (1967-1970) interrupted the orderly growth of the Economy, the growth of the productive sector continued to grow into the Late seventies and early Eighties. But thereafter, Nigeria's productive capacity began a decline which got deeper into the Millenium and today, Nigeria has become essentially a consumption driven economy.
THE ROAD DOWN THE HILL
In 1980, Industrial capacity utilization was about 70.1%, crashing to 35% in 2000 and since have been struggling to remain above 40(47% in 2009, 45% in 2010 and 48%in 2012). In 1980, Manufacturing contributed nearly 12% to the Nation's GDP, declining to 8.6% by the late eighties and  since 1996 has remained prostrate within the 4-5% range until in the last year or so when some more exciting  growth trend seem to be about to emerge. How did we get here?
I believe that two main events diverted our economy from Production to Consumption. First was the 1973-1978 oil boom. The unrestrained growth in the international prices brought about by the War in the Middle East also brought sudden Wealth to Nigeria so much so that ' money was no longer our problem but how to spend it'. Udoji recommended new salaries and backdated its effective date. Nigeria got high on petro-dollar and we began an unrestrained binge of importation of anything that caught our fancy. Our Ports got cluttered with cement armada, sugar armada and automobile armada.
The world was at our beck and call. And the jolly old soldiers who controlled the treasury helped themselves to no end,instigating battles for turf and a series of coups and counter coups and when they allowed the Civilians to take over reigns of political control,albeit briefly, our Politicians jumped into the fray and  introduced  Nigeria's genre of democratic rule called ' chop make I chop'. When the Military, saw that the Civilians were more reckless than they were, their ' patriotic zeal ' forced them back and in order to ensure that the civilian politicians either never came back, through' maradonic manipulations' or that if they ever came back, they would find nothing left through 'Abachanomics ', Nigeria lost direction and became a laboratory for economic experimentation.
The second major reason, Nigeria began to de-industrialise was the introduction of the Nigeria's  Indigenization Policy introduced in 1978. Hitherto Nigeria had pursued an import substitution strategy that allowed many Multinational Organizations and other foreign firms to introduce light industrial Manufacturing and assembly- type manufacturing, which created employment and contributed to value creation and Productive GDP growth. All of a sudden, by fiat, investors were forced to divest from their businesses, in some cases up to 100% as aliens were prohibited from participating in some business segments reserved for Nigerians. They left reluctantly, taking along in some cases their technology, innovation and management expertise, and then turned around to help the new owners 'kill' the businesses while they pretended to help.
And of course Nigeria was open for all sorts of imports,and they helped with imports from offshore. While the New Nigerian owners were busy trying to run these old establishments, new investments were hardly coming in especially during the era of Abachanomics  and since these factories were built for import-substitution,we had to depend on imported raw materials and imported spare parts. This was a major effort at de-industrialisation.
 HITTING THE FLOOR
While all these were going on, the World decided to transform into a global village aided by the new information Communications Technology(ICT). The 21st Century economic imperatives of Liberalization, Privatisation and Deregulation combined with Technology ,led the World to sign on to the World Trade Organization(WTO) protocols which Nigeria signed with great eagerness and enthusiasm, perhaps to make up for our several 'sins' against the global community. With that, what ever controls Nigeria had over imports into the country vanished. The WTO has designed a new world where there are no more barriers to trade. All products and services were to flow freely across country boundaries without let or hindrance. No bans, no high tariffs!
For China with great industrial factories where costs are low it was good news. For India, for Korea, for Singapore, Malaysia,even for USA and UK with their high Tech Competences, it was good news. But for Nigeria, it became real bad news. The odds were stacked high against us. The concept of free trade relied on the principles of competitive and comparative advantages. Acute state of our infrastructure deficiency especially Energy (Electricity and industrial), general insecurity,perceived threat to political stability, smuggling and dumping of cheap and substandard products,high cost of funds and inadequacy of long term funds, multiple taxation,weak real demand and low purchasing power left us holding the short end of the stick. There was really not much we could offer the World better than others except perhaps our sweet crude and our abandoned agriculture. So we became the the final destination of all kinds of imported goods. And with it our productive capacity hit the floor and we laid prostrate, consuming all that is consumable.
 IS RESURRECTION POSSIBLE?
Luckily, we are not yet buried and so may not have to test this possibility. Indeed we seem to have aroused from the consumption-induced coma because, as indicated earlier, there is a strong belief that Nigeria's industrial capacity is on the verge of a reversal, especially with some aggressive domestic  investment being made in Cement and sugar manufacturing. Also President Goodluck Jonathan's Transformation Agenda, and it's subset, the Agric Transformation Agenda (ATA), motivated by the Vision 2020 project, seem to be providing the oxygen and nutrient needed to help rebuild our Productive muscles.
The renewed focus on Agriculture and the Agric- value Chain, and with new investments in Commercial Farming,Fertilizer plants and food processing plants raise hopes of a renaissance . Additional big ticket investments planned in Oil refinery, Petrochemicals,Power generation and distribution further raise the ante. But, we need to ensure we rebuild a strong economic foundation on which the resurgent Productive capacity will anchor and withstand the whirlwind of globalisation and international pressures and competition.
 1. ATTRACT EXTENSIVE PHYSICAL INFRASTRUCTURE DEVELOPMENT
To make Nigeria's Products competitive in a globalised business environment, we must drastically reduce the cost of production. One major way will be the attraction of massive investment in Infrastructure. The government must not only make major investments in Energy,especially Electric Power, Transport infrastructure- Roads,Railways,Seaports and Airports, and Science Engineering Technology infrastructure but must continue with the current liberalisation and Privitisation schemes to attract the much needed Private Sector investment in the development and Management of our infrastructure. The ongoing focus on Power must be sustained and more of the savings from Subsidy removal should be channeled to Infrastructural development.
2. INSTITUTE MORE LIBERAL ACCESS TO CREDIT AT LOW INTEREST RATE
In my experience, nothing will promote productive activities in Nigeria, especially in the Agro related production than the liberal availability to credit at single digit interest rate. Here the current effort of the federal government through the Central bank to sudsidise interest rates will need to be intensified. As has been seen we can not as yet trust the commercial banks to listen to the patriotic appeal of Nigerians to keep interest rates low. Despite the yawning gaps between lending rates and deposit interest rates(21%vs 4%), Nigeria's commercial banks insist that the costs of their deposits is high justifying the prohibitive interest rates.
3. MAINTAIN MACRO-ECONOMIC STABILITY
The emergent resurgence in Nigeria's productive capacity has been generally assisted by the overall macro-economic stability that has persisted in the country over the last couple of years,especially after the 2008-2009 global economic crisis. But we need to sustain it and find innovative ways to drive down interest rates and inflation. Certainly, the moment, we reverse the trend and increase our production to supply more of our domestic needs and export the surplus, our balance of payments will improve, our foreign reserves will accumulate and the value of our currency will improve, thereby having a further salutary impact on the macro-economy. Stable macro-economy elicits confidence in the Country and promotes investment.
4. INSTITUTE A REGIME OF INVESTMENT PROMOTIVE AND CONSISTENT POLICY FRAMEWORK .
Never again must we institute policies that punish investment. We need to court investment, both foreign and local, aware that investments are like water and therefore follow the lines of least resistance. Even local investors have choices as we have seen, Dangote building production plants in several countries in Africa. Beyond the introduction of incentives like tax cuts, pioneer status tax holidays, the export expansion grants(EEG)etc, these investment PROMOTIVE policies must also be made to endure so that the benefits will accrue over the long term. Nigeria must say bye bye to policy inconsistencies and policy flip-flops. And good bye to multiple taxation as well.
5. LET US PROMOTE, INCENTIVISE RESEARCH & DEVELOPMENT AND INNOVATION
Global competitiveness in industrial and Agricultural production is driven by creativity and innovation. To drive these,our investment in Research and development must escalate steeply. Unfortunately as at date, R&D is poorly funded in Nigeria. Infact, many companies in the SME sector are unable or do I say incapable of investing in any meaningful Reseach work. And so they remain copycats and lack behind. What is worse, access to modern Technology and cutting edge production innovations are lacking and therefore we produce using aged and achaic machinery,equipment and technology. Major governmental intervention is acutely indicated to help support our productive activities especially in the SME sector. Let institutions like the Federal Industrial Research Institute, Oshodi(FIRO) be heavily funded, and it's products, rigorously marketed and applied. Let the researches and innovations from our Universities and other Research institutes( including several in Agriculture) be deliberately sold to the Private Sector.
6. LET US PRODUCE SKILLED MANPOWER
From comparative global experience, it has been established that skilled productive manpower can become a competitive advantage. It is even more exciting when the skilled manpower is low wage as well. This unique combination was the major factor that helped turn China into the World's factory. Now wages are growing in China and the skilled workers are moving to higher paying technology driven jobs, many offshore plants and factories are closing down. Africa and indeed Nigeria is the last low wage region and therefore presents great opportunity to become destination for off shoring and replacing China as the World's Industrial centre. But this requires a well honed strategy to rapidly skill up, so that we do not lose the opportunity to other smaller African Countries.
To accomplish this strategy we need to fully reorientate our education to be need driven,hands-on and problem solving. Such Organizations as ASUU that promote entitlement mentality have become redundant and must retool and re-skill themselves if they intend to be relevant to our new demand driven, skill oriented education.
7. LET US BUILD A NATION OF LAW AND ORDER UNDER GOD
To attract foreign direct investment or local investment that will help build up our productive capacity and move us away from predominant consumption to predominant production,we must rebuild the image of this country. It  must become a Country where the rule of law reigns supreme. Same law for everyone one. And where every Nigerian is entitled to security of life and property not only our political office holders. A country where crime does not pay and where every crime is punished with the full weight of the law.
 To be sincere, nothing suggested above will yield the desired result if this nation does not abhor Corruption in word and deed. If there is one thing that has held us down and made us globally uncompetitive, it is corruption. Nigeria would have been an investor's haven we're it not for corruption. The World views us as a very corrupt Nation and we know that it is true. So when it comes to corruption, reality agrees with perception. Our half-hearted attempts to fight corruption and the stop and go syndrome, must give way to a holistic and all embracing abhorrence to corruption at all levels of government and the civil society, including the Church.
And talking about the Church, we must not only speak against corruption, we must expose it where ever we find it and our Church leaders must never hobnob with corrupt political, private sector or civil society leaders. Some body must champion the war against corruption and in my heart, I believe that the Church is best placed. Not the Politicians, not the businessmen nor the civil servants.
 Finally, thank goodness, Nigeria is a God believing Nation. Our National anthems (old and new) are essentially prayers to the Almighty God. Our National pledge and official oaths end with…so help us God. We have churches, and prayer houses all over Nigeria and new ministries are born every day and new churches planted every day. Other religious groups are also 'prospering' in our Country. But why are crime and corruption not abating? I think we are too much of hypocrites and we are a religious society. We are not truly God- fearing.
So to drive our quest to become a productive Nation that will achieve quantum leap to come among the top twenty largest economies in the World by 2020, we must become a God- fearing Nation. And come to think of it, that is the essential mandate of the Church.
Thank you for your attention and God bless.
Mazi Sam Ohuabunwa OFR