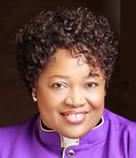 The Pastor of the Headquarters Church of TREM is Bishop Peace Okonkwo, a dynamic and versatile Woman of God who has touched the lives of countless thousands across the world, through various platforms and programs. Aside from the assignment of running the Headquarters Church, Bishop Peace has a special focus on the Women and Children Directorate where she directly oversees the affairs of the Children Ministry, The Young Women Fellowship, and the Christian Women Fellowship.
Bishop Peace Okonkwo is supported in the Headquarters Church by the following Pastors:
Rev. Dennis. Kenkwo 08023152364, 08129129458 dkenkwo@trem.org
Rev. Mike. Osunkwo 08037214020, 08129121847 mosunkwo@trem.org
Rev. E. Nwogu 08051353203, 08129121848 enwogu@trem.org
Rev. Victor. Oyibocha 08055910176, 08129129463 voyibocha@trem.org
Rev. Kayode Odiaka 08023275634, 08129129461 kodiaka@trem.org
Rev. Monday Ojo-Uwuigbe 08023286487, 08129129448 mojo-uwuigbe@trem.org
Rev. Rose Nweze 08027797067, 08129129462 rnweze@trem.org
Pastor (Mrs.) Toyin Jayeola 08023032150 tjayeola@trem.org
Rev (Mrs) Oluwayomi Uteh 08030766773 yomiuteh@trem.org
Rev. Joel Oba 08033305594, 08129129464 joba@trem.org
Pastor Lizzy Ikem 08033285013 eikem@trem.org
Rev. (Dr.) Segun Martins 08034266177, 08129128760 omartins@trem.org
Rev. Charles Akinmeji 08037031413, 08129129466 cakinmeji@trem.org
Rev. Steve Ahanotu 08055438773, 08129121833 sahanotu@trem.org
Rev. Feyisayo Adebayo 08034128184, 08129841734 fadebayo@trem.org
Rev. Boniface Imo-owo 08023047002 bimo-owo@trem.org
Pastor Jude Akele 08027080629 jakele@trem.org
Pastor (Mrs.) Odiaka Bola 08037129814 bodiaka@trem.org
Pastor Onyekachi Asugha 08030827125 kachiasugha@trem.org
Pastor (Mrs) Uchechukwu Asugha 0812791440 ukasugha@trem.org
Pastor Emmanuel Uwadiogbu 08180111051 euwadiogbu@trem.org
Pastor Babatunde D. Bamgboye 08027266477 tundebamgboye@trem.org
Bishop Peace Okonkwo can be reached on +234 17738584 as well as at revpeace@trem.org or bishoppeace@trem.org.