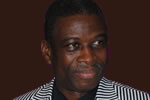 Bishop Dr Reuben Oke was born on January 1, 1957 to the family of Mr. Joshua Olasunkanmi Oke and Mrs. Comfort Siewola Oke of Oke -Apata, Gbongan in Osun State. He attended United Anglican Primary School, Omoni, Modakeke and later proceeded to Anglican (mixed) commercial Secondary Model School, Modakeke, Ile-Ife and later Ife City College, Ile-Ife. He worked in Ilaro, Ogun State between 1977 and 1980 as a surveyor.
He received his call to the ministry in 1980 while at Ilaro and entered full time ministry in July of same year. He later went for training at L.I.F.E Bible College (now L.I.F.E Theological Seminary) in Ikorodu between 1981 and 1983 where he obtained Advance Diploma Certificate in Theology.
He joined TREM in May 3, 1984 and later went back to L.I.F.E Theological Seminary for a degree in Theology in 2003. Presently he is a member of the Board of Advisers and Trustees of TREM, Church Growth Adviser, National Co­ordinator, Ministers' Affairs, Co-ordinator Foreign Churches and second Vice Chairman Board of Governors, God's Army Bible College (GABC).
He was the pioneering Pastor Onikolobo, Abeokuta, Ogun State branch of the ministry in December 1984. The branch has given birth to about 30 other branches since then. These branches spread across the entire South – West of Nigeria. He is the present Chairman of the Pentecostal Fellowship (PFN) Ogun state Chapter. He is married to Rev. Mrs. Bolade Oke, a full time minister of the gospel and they are blessed with 3 children, Segun, Tosin and Feyikemi.