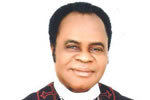 Bishop P. Kanayo Enuma was born in Nnewi, Anambra State of Nigeria, and had his secondary education at Nnewi High School, Nnewi. He survived the Nigeria/Biafra war as a captain in the defunct Biafra Army, and finally accepted Christ on 31st of March 1973. He proceeded to Miami, Florida USA in January 1976: He spent five months at the Burnside OTI Aviation Training Center where he obtained his private pilot rating.
He gained admission into Miami Dade Community College Miami where he bagged Associate in Arts Degree and obtained Bachelor of Science Degree (B.Sc.) in Criminology with honours (magna cum laude), at the Nova South Eastern University Ft. Laudable, Florida. He earned his Doctorate degree in Public Administration at the Nova Southern Eastern University, Ft. Lauderdale, Florida, USA.
He was called into full time ministry on 31st of March 1983 in Miami while worshiping at the First Baptist Church, Opelika Miami, Florida USA. He came back to Nigeria in October 1983 and did his Youth Service at the Lagos State Police Command Headquarters, Ikeja. He finally answered the call' on 27th of September 1985 in TREM.
He is a warrior, a teacher and a writer. His first book titled Victory In Jesus Christ that contains his testimony was written in the year 1988. In 1994 his second book titled Why Do The Righteous Suffer? was published. The Will Of God For Man, which was dedicated to God's Army Bible Training College was published in the year 1996. In 1998, his fourth book Mind, The Greatest Enemy of Man was published. The second Edition of The Will of God For Man the fifth book, was published year 2001. His sixth book is The Truth About Deliverance was published in 2004.
He is the currently the Pastor in Charge of TREM Ojo Road Branch (The Cathedral Of His Dominion) located at No 24/27, Aduke Street, Off ECN Bus- stop, Ojo Road, Lagos. He is also National Coordinator in charge of TREM Northern Zone – The zone of His Glory. He is a member of Board of Advisers of TREM. He is also the coordinator of God's Army Bible Training College (GABTC). He was espoused to his lovely wife Pastor (Mrs.) Oby Enuma (Nee Ezukwo) in December 1980. He is blessed with four children; Oge, Chi-Chi, Onyee and Ugo